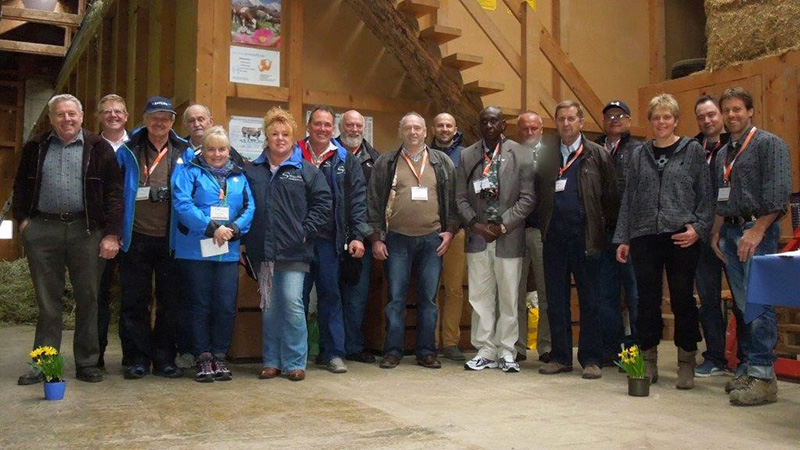 This was the theme for the recent 31st European Congress and history in the making -125 years of Simmental breeding through the Swiss Herdbook held in Thun, try Switzerland. Australia, in conjunction with 19 countries, was amongst the excitement of attending a part of the world, where Simmental all began.
Simmental breeding of course is much older than 125 years but, the herdbook recordings available take us back to 1890. Swiss agriculture has made a huge turnaround and beef cattle have increased significantly in Switzerland. With the long tradition in alpine farming, the breed developed in accordance with topography, climate and technical progress. During the last few years, the Simmental breed in Switzerland has been undergoing an enormous development in terms of performance and in particular of morphology, with EBV data to match.
Opportunities to attend Simmental beef and dairy herds were available to guests and the farms welcomed the participants from around the world. The programme included excursions to the Simmental Show which ended with a cattle drive through the city of Thun and also the Beef Cattle Show "Swiss Open", where a Simmental Bull was crowned: Mister Swiss open 2015 out of all the breeds (Won by FTC-CROSBY von Felix Tobler aus Chappelle.)
Also part of the programme were the Council meetings of the WSFF and ESF organisations and lastly the 31st General Assembly of the ESF. Included in the assembly were technical speeches by Bernard Lehmann from the Federal Office of Agriculture, Matthias Schelling from the Swiss Herdbook, Mathias Gerber from the Swiss Beef Cattle, Hermann Schwarzenbacher from Vienna, Franz Seefried from Qualitas AG and lastly one of the organisers of congress, Ueli Bach, Simmental Breeder who spoke on the practice of animal husbandry in the Alps.
Nature, humans, alpine and mountain farming and sustainability are part of the joint path of the Simmental breed as we see them today. The inhabitants are proud of their traditions and origin of the breed which lead us through the Simmen Valley to see the Simmental cattle; true to the motto "back to the roots"….