Sold 45/56 ~ Average $4930
TRADITIONAL SIMMENTALS ~ 33/34 Sold ~ $4822 average
BLACK SIMMENTALS ~ 6/6 Sold ~ $6,167 average
FULL RED SIMMENTALS ~ 2/2 Sold ~ $5500 average
SIMBRAHS ~ 4/4 Sold ~ $3875 average
LIKE other bull sales around Queensland, the Clay Gully Simmental bull sale at Gracemere on Monday saw buyers willing to pay top dollar while still being able to gain bulls for reasonable prices.
Lone Station Simmental stud, Biarra, paid $17,000 for 24-month-old polled bull, Clay Gully Jayko (P).
"I've kept my eye on him for a while," buyer Steven Manwill said.
"I was impressed with his fat coverage."
The 958 kilogram, milk-tooth bull, owned by Rob and Viv Laycock and family, Clay Gully, Esk, had P8 fat of 11mm, rib fat of 9mm and intramuscular fat of 4.4 per cent.
Jayko also had an eye muscle area of 136 square cm and a scrotal circumference of 42.5cm.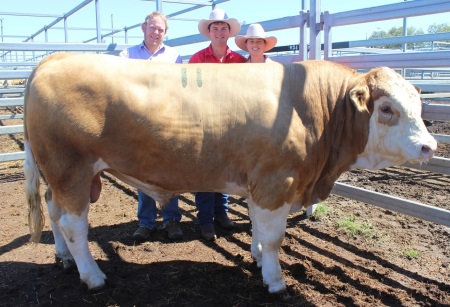 Described by the Laycocks as one of the best bulls they have bred, Jayko was sired by Bokara Freightliner to Clay Gully Exult.
"He'll be going into the herd as one of our foundation sires," Mr Manwill said.
As soon as Jayko went under the hammer, the Laycocks saw their next bull Clay Gully Jamaica sell for $10,000.
The 20-month-old poll, described as having stud sire potential, had an EMA of 137 square cm and IMF of 4.1pc at just 20 months and was snapped up by Booroondarra Pastoral Company, Middlemount.
Meanwhile, volume buyers were the Neill-Ballantine family, Galloway Plains, Calliope, who nabbed 11 bulls for a $4000 average.
Other volume buyers included the Horn family, Theodore, who bought four bulls for a $3500 average; BH Holdings, Springsure, which took three bulls to average $5500; H Dwyer, Biggenden, who also bought three bulls to average $4500; and the Becker family, Junedale Grazing, Theodore, who bought three bulls for a $3667 average.
Fifteen of the 46 bulls on offer hit the $5000 and over mark, and seven of those made $7000 and over.
The Laycock's Clay Gully stud sold a total of 18 bulls to average $5388 and achieve a 100% clearance. Five Clay Gully bulls sold to $7,000 or more.
The sale included invited vendors the Newlands family, Lavarta, who sold nine registered bulls to average $5813 and had a 100pc clearance.
Darren and Manuela Laycock with sons Tyson and Blake Laycock, Yeeha Simmental and Simbrah stud sold four Simbrah bulls to average $3875 and eight Simmentals bulls to average $3875. And achieve a 100pc clearance.
Springfield Simmentals, owned by the Hampson family, sold their two herd bulls for a $4500 average.
Noanga Simmentals sold five of six bulls offered to average $4000, and four of these went to Galloway Plains.
Photo and results courtesy: Queensland Country Life and Gareth Laycock