BEEF producers and stud masters looking for extra muscle and softness bid strongly at the Moore family's fourth annual on-property Lucrana Simmental bull sale at Texas last Friday. The intense competition caused a total clearance of the catalogue with several buyers also looking at private sales post auction.
Lucrana co-principal Andrew Moore was over whelmed at his sale's performance and the confidence his buyers had demonstrated in the Lucrana breeding program. Auctioneer Robbie Bloch, C L Squires & Co, Inverell, NSW sold 38 Simmental and one Simbrah bull for a Lucrana record average of $6346 and to a top of $16,500.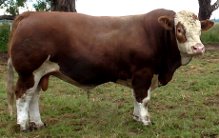 First time buyers Pat, Donna and Megan Curran, Keerrong, Lismore, NSW paid the top money for Lucrana Juggernaut (P), rising two-year-old, 956kg  son of Lucrana Zephyr (P) with exceptional length and depth-of-body.
Mr Curran said he intends to register a stud and will use Lucrana  Juggernaut as a foundation sire and was impressed with his overall structure, power and performance which was backed with some impressive data.
Central Queensland beef producers Greg Wright and Matt Tennyson, Tigrigie Cattle Company, Moorabinda, Taroom were also buying for the first time and wanted to introduce Simmentals into their Braford base commercial herd. Mr Wright said they have used Angus bulls over heifers, but liked the "shape, softness and carcase performance of the Lucrana Simmentals".
Tigrigie accounted for three quality bulls – all with excellent muscling and strong carcase traits – for a $8000 average which included the $10,000 second top-priced bull, Lucrana Jagger, an earlier maturing son of proven sire in Lucrana Piermont (P).
Regular clients also active included Chris Strahle, Clerkness Pastoral Company, Bundarra, NSW with half-a-dozen bulls for a $6666 average with a $9500 top for Lucrana Jaden, another son of Lucrana Piermont with a great butt profile.
Other repeat buyers active were Dennis Rush, J H Holdings, Texas with five bulls for a $6500 average which included the only Simbrah bull, Lucrana High Voltage (P) for $7000 and Bevan Wilson, Box Flat Grazing Pty Ltd of Taroom with four for a $5375 average.
Article By PETER LOWE – COURTESY OF THE QUEENSLAND COUNTRY LIFE
Summary:
39 bulls av $6346, top $16,500
100pc clearance
Agent; C L Squires & Co, Inverell NSW