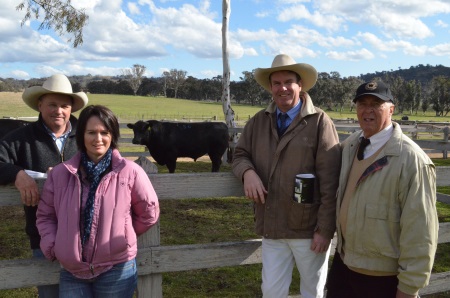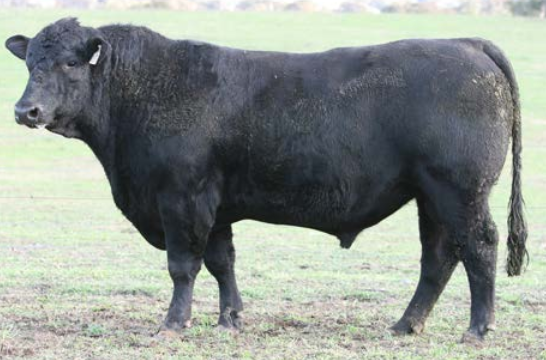 Picture: Andrew and Trudy Chapman, Wombramurra Black Simmentals; Paul Dooley, Tamworth Auctioneer and Peter Howarth, Wombramurra Black Simmentals with the $18,000 top priced bull Wombramurra J153
The Wombramurra Black Simmental bull and female sale broke an Australian record at their annual on-property sale near Nundle last Wednesday. 
All but two of the 52 bulls offered sold to top at $18,000, the highest price paid for a SimAngus bull at auction, and average $6810.
The stud also offered 40 yearling heifers selling to a top of $1250 and averaging $1200.
In the breakdown 12 two-year old black Simmental bulls topped at $13,000 and average $8042; nine yearling black Simmental bulls topped at $11,000 and averaged $7667; 14 two-year old SimAngus bulls topped at $18,000 and averaged $6964; whilst 15 yearling SimAngus bulls topped at $9000 and averaged $5167.
Repeat buyer and local client Jim Robinson, Nundle, secured the $18,000 SimAngus bull Wombramurra J153, auctioned by Landmark's Joel Fleming.
Sired by Millah Murrah Right Time F226 and out of a GW Lucky Charm female, the two-year old bull weighed 840 kilograms, had an average daily gain of 1.09kg, and exceeded the previous Australian record for a SimAngus at auction by $2000.
The bull had estimated breeding values (EBVs) of -4.9 for birthweight, +10 for 400-day weight, +3.4 for eye muscle area (EMA) and +1.9 for intramuscular fat (IMF).
Topping the Black Simmental draft were first time buyers David and Ben Wirth, "Glengarry", Glen Innes, paying $13,000 for Wombramurra J106.
Sired by TNT Tanker U263 and out of a Langton-Gate Lucky Ace daughter, the two-year old weighed 860 kilograms with an average daily gain of 1.10kg.
The father and son duo also purchased Wombramurra J168, a two-year old black Simmental sired by Wombramurra Hummer E038 for $10,000.
Volume buyer on the day was Richard Creighton, Gordonbrook Station, Grafton, who secured six Black Simmental bulls to top at $8000 twice and average $6167.
Their second year buying from Wombramurra, the Creighton's were chasing well-muscled bulls to go over Brahman/Angus females to breed terminal calves.
Courtesy: The Land – Kirra Bogan