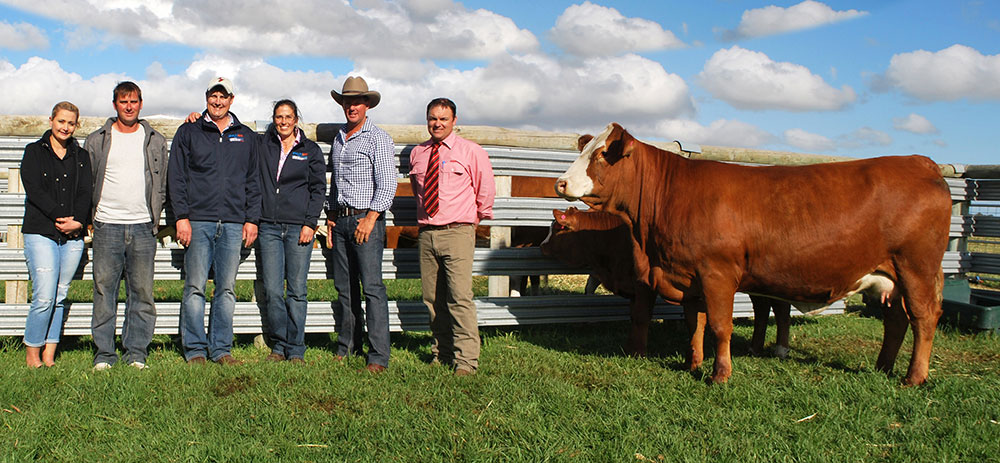 Tom and Lizzy Baker, viagra order Woonallee Simmentals continue to make headlines for all the right reasons and their second Elite Ladies Female Sale last Friday was no exception.
As a result of their purchase of the entire Webb Black Simmental herd earlier in the year to fast track their breeding program to match growing commercial demand for black bulls, and the Baker family was able to offer a group of truly elite breeding females for competition to other stud breeders for only the second time in a stand-alone female sale.
The quality of the 38 Simmental female lots and one Simbrah female, sildenafil five pregnant ET recipients and three semen packages on offer could only be described as exceptional. As such, even in a very good sale result which this one was, they still reflected value. The glowing success certainly matched the glow of the pink colour theme selected for Woonallee female sales.
With 45 registered bidders from all states at the sale venue on-property at Furner, plus a further 26 registered on Auctions Plus, everything pointed to a very good result.
Under the control of Elders auctioneer Ben Finch, the brisk and sustained bidding saw a quick result with the 47 lots all clearing in just over one hour, grossing $314,750.
There could be no more exciting lot than the first; the pick of the entire 2015 drop of registered Woonallee heifers, comprising 205 in number and covering traditional, black, red or SimAngus. The selection could be made at any time up to March next year. The bidding rocketed beyond $10,000 from multiple bidders but eventually it was Brett Nobbs, Nobbs Cattle Co from Duaringa, via Rockhampton, Queensland who won out with a $16,000 bid. This equalled the Woonallee auction record for a Simmental female set in the first Woonallee Elite Ladies Sale in February 2014.
A run of 15 proven top breeding cows followed this opening lot, the highlight being lot 3, Woonallee Vasti J45(P)(AI). With her first superb April drop calf at foot, a heifer by Woonallee Dimension, she was a late replacement from the top of the herd. Depastured with Willandra Gomez, this 3 in 1 unit was certainly a star attraction. Once again it was Brett Nobbs who outbid the widespread competition, again at $16,000.
Garry and Joy Allen, Tugulawa Simmentals, Mt Gambier were strongest on the mated cow lots, paying $10,500 for Woonallee Ashante B114(ET)(AI), a flush cow at Woonallee and a full sister to famous sire Woonallee Boulder, and mated to the even more famous Woonallee Tornado. They then paid $7000 for Woonallee Showgirl B3(P)(AI), and later a top young heifer, Woonallee Rowena K284(AI) for $4500 to round out a top investment trio.
The 15 cows averaged $7100. All open cows and unmated heifers were offered with the purchasers having access to two straws of semen from one of five top Woonallee sires.
While the cows were impressive, it was the first of the 23 heifers, the black Woonallee Razzle Dazzle K276(P)(ET)(AI), and sired by Mr Hoc Broker, that set a new Woonallee record. She was mated to Webb Uppercut H613. As with the earlier high sellers she rapidly rose to $15,000 then after a short lull, accelerated bidding took her to $20,000. This was a new Woonallee record price and the highest Simmental female auction price for many years. The winning bidder was Regan, Karen & Trevor Burow, Yerwal Estate, Lucindale, with Mervyn and Courtney Newland, Lavarta Simmentals, Toowoomba, Qld underbidders, connecting by phone to Ross Milne, Elders Stud Stock.
"Heifers of this genetic quality don't come up often. She offers us outcross genetics and is a potential donor female in our program, saving us a trip to Canada to try to find something like her," Regan Burow said.
"I feel that if we are going to buy a donor female, we might as well put the runs on the board from the get-go in our black growth phase. We have 12 to 15 black females in our program at this stage," he added.
There were only three other black females offered and Kevin Hard, Naracoopa Simmentals, Denmark, WA grabbed two of them at $9000 each, while Ashley and Kate Ness, Parndana, Kangaroo Island picked up the other at $6500.
In the traditional heifers it was two Woonallee BHR Tornado daughters that created the highlights.
Brett Nobbs, Nobbs Cattle Co was again the strongest in bidding for Woonallee Rene K161(P), securing her for $13,500. Brett's three purchases were exceptional in every way and averaged $15,167. Brett said he has a long established herd of Brahmans at Duaringa, but is really just starting out in Simmentals, aiming at producing reds and some Simbrah composites. It is his first time buying at Woonallee and he has certainly made an impressive start.
Paul and Natalie Tuckey, Mubarn Simmental stud, Pinjarra, WA also came a long way to invest in more Woonallee genetics, having purchased two bulls previously. They were the volume Simmental female buyers with five heifers at a $7100 average. Contributing majorly to that average was their purchase of Woonallee Kathie K181(P), the other high selling Tornado daughter for $14,500. At 13 months of age she was the youngest heifer offered and clearly one of the best.
The Tuckeys came, "Just looking for good ones", and they certainly picked up five outstanding breeding prospects.
CJ & DM Love, Round Mountain, NSW were also prominent volume buyers in the Simmental females. They purchased fourin great value buying. Long term Woonallee supporter Elaine Sleep, buying through Charles Stewart Colac paid to $8000 and averaged $6667 for three top females; Brian Cullis, 'Maybethistime' stud, Bermagui, NSW averaged $4250 for two; Rick Smith, bidding for Alva Koort, Casterton averaged $6750 for two; Tyncu Pty Ltd, averaged $6500 for two; and Brodie Carracher, Grangeburn stud, Mt Gambier paid $9000 for his only purchase.
Five recipient cows were also offered carrying some very exciting embryos. They topped at $6500 to the Fairburn family, Fairhaven Simmentals, Kingaroy, Qld for one of the two traditional Simmental pregnancies. Lavarta Simmentals picked up one of the three blacks for $5000, as did Stuart Moack, Valley Creek Simmentals, Mossvale, NSW, while Garry Gillett, Lara, Vic went to $6000. Grantley Muller, buying for Grant High School, Mt Gambier paid $5250 for the other traditional pregnancy to add to their $5000 heifer purchase earlier. The school is just starting a stud Simmental herd and they have started with top quality. The five recipients averaged $5550 and went to four states.
Three semen lots of 10 straws per lot rounded out the sale with these averaging $250/straw. This was the only success Auctions Plus bidders had on the day, supplying two of the buyers. The package in the all red bull MRL Capone 130B(P) started at $100/straw but went up to $425/straw with Brett Nobbs being underbidder.
A package in Mr Hoc Broker (P), the sire of the $20,000 heifer made $200/straw through Auctions Plus, while Alan Morgan, Morganvale successfully bid $125/straw for the package in the black bull MRL Discovery 21A(P).
28 of the 71 registered bidders at the sale or on A+ were successful in their purchasing endeavours.
A very pleased Woonallee principal, Tom Baker said, "We are extremely happy with the result and to get a total clearance at good prices, but there was still excellent value for quality. I feel the result really reflected the present state of beef industry."
Sale Summary
21 unmated Simmental heifers sold to $16,000 and averaged $6786
2 mated heifers sold to $20,000 and averaged $13,500
2 cows with calves at foot and remated sold to $16,000 and averaged $11,500
10 open cows with calves at foot sold to $11,000 and averaged $6300
3 mated cows sold to $10,500 and averaged $6833
Overall  38 Simmental females sold to $20,000 and averaged $7276
1 Simbrah unmated heifer sold at $3000
5 ET Recipient cows sold to $6500 and averaged $5550
3 Semen packages sold to $4250 and averaged $2500
Agents: Elders Naracoorte
Auctioneer: Ben Finch