Australian Simmental
World Simmental Federation statistics put the number of Simmental cattle worldwide at over 40 million head, making them second only to Zebu in worldwide numbers.
Importation of semen into Australia commenced in April 1972 with both German and Swiss strains. In later years many Simmentals were imported through New Zealand and this, together with access to semen from North America, has expanded the gene pool to one of the largest in the world.
Since 1972, stud breeders have selected superior animals from Simmental's enormous worldwide genetic pool and coupled these genetics with selection for adaptation to Australia's wide range of environments and production systems. The Australian Simmental today has traditional, red, black and sim angus recorded in their register.
The Australian Simmental, is a breed with all-round superior performance when used either as a pure breed or in crossbreeding programs. The genetics are designed to breed a better bottom line for commercial producers. Whether you're a northern tropical, or a temperate zone producer the advantages of Simmental hybrid vigour include;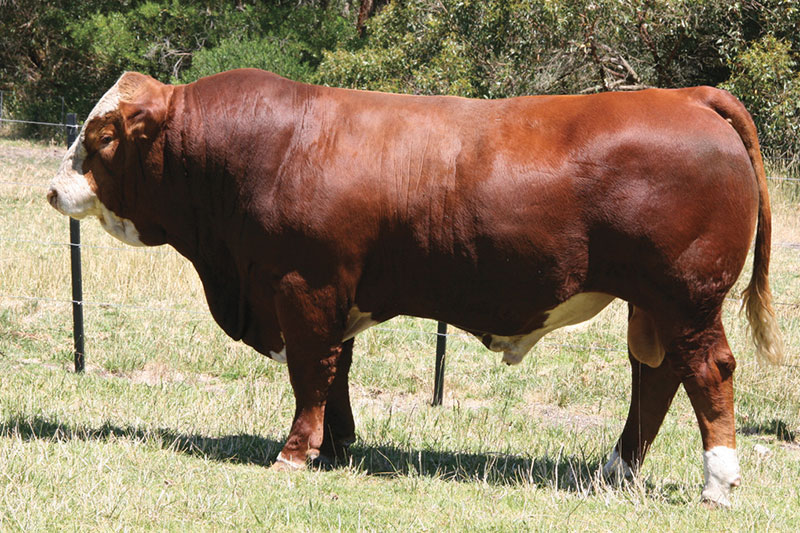 More saleable weight…10 to 15% or 25 to 60kg
Trimmer carcases – less waste fat
More muscle
Higher yields of saleable beef
More productive F1 females
Earlier turnoff at desired market weight
The successful development of the Australian Simmental owes much to the skills of stud breeders in pursuing performance selection systems and selection for commercially important conformation and structural traits.
Superior Performance of Australian Simmental
The Australian Simmental is characterised by:
Rapid Weight Gain
First cross Simmental X British or Bos Indicus calves gain weight 10% to 20% faster, reaching market weight younger and earlier, reducing annual stocking pressure.
High Carcase Yield
The leaner, highly muscled Simmental and Simmental cross animal produces higher yields of saleable beef.
High Fertility
Simmental infused females reach puberty early, and enjoy long reproductive lives. Simmental bulls are renowned for their large scrotal size, high libido and ability to handle a high mating load. Using Simmental Breedplan, bulls can be selected for fertility and ease of calving EBVs.
Calving Ease
EBV Data shows a dramatic improvement in calving ease, both direct and in daughters, combined with lower birth weights.
Excellent Maternal Qualities
Milk and Mothering ability are important traits in replacement females. Simmental females excel in these traits, further boosting the weight of their weaner progeny.
Quiet Temperament
Simmental cattle are extremely docile and easy to manage if handled well. Most important in cattle management, in finishing programs and reducing stress in slaughter cattle.
Important for profitable commercial beef production, producing
 • More calves
 • Heavier and earlier turnoff
 • Higher carcase yields
 • Highly productive breeding females
 • All with excellent temperament