Simmentals originated from Switzerland. The Simmental breed grew to become Europe's dominant dual purpose beef/milk breed.
Over the past 30 years, the Simmental breed spread to other continents, including North and South America, Africa and Australasia, where Simmentals are predominantly used for beef production.
Today there are over 50 million Simmentals worldwide, making the breed the second most numerous world breed following Bos Indicus breeds.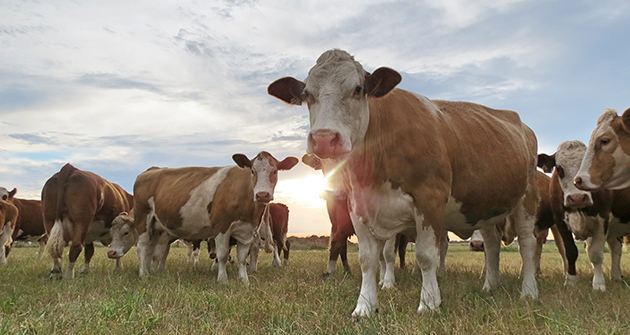 Breed Description
Mature Weight: Bulls: (1,000 to 1,200 kg) Cows: (550 to 800 kg)
Colour: From blonde to chestnut to cherry red, with white markings on the head, underside of brisket and belly. The legs and tail switch are generally white and there may be white patches on the body. Often dark pigmentation around the eyes and large eye patches.
Horns: Simmentals are naturally horned, but Simmental regulations require dehorning for registration. Polled strains of Simmental also exist.