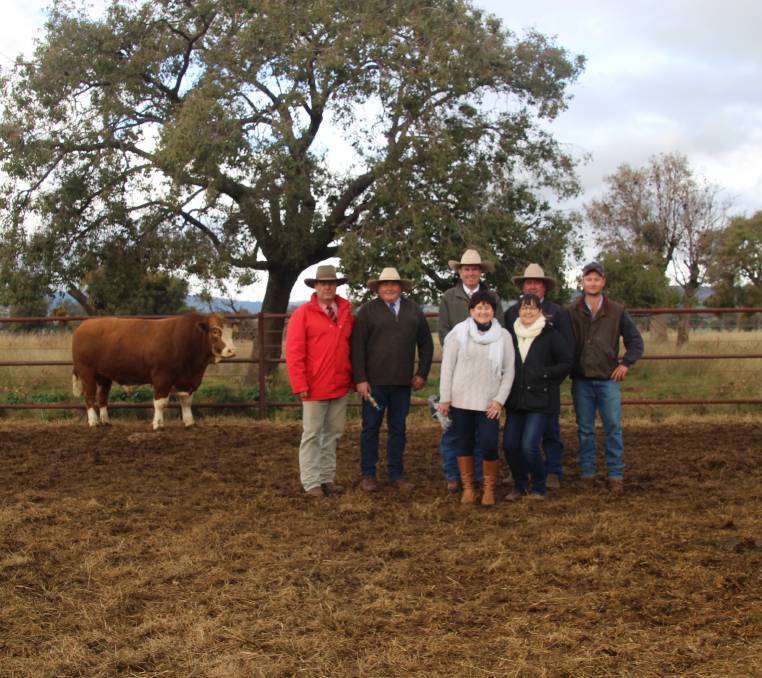 The Cook family of Barana Simmental stud at Coolah welcomed rain and one of the largest crowds of people on-property at their annual sale last Friday.
This coupled with more than 80 sale viewers opting for the online platform of AuctionsPlus created what was described by many as the best sale the stud had seen.

The Simmental bulls averaged $7322 and topped at $16,000, nine PTIC Simmental heifers averaged $7111 and the purebred commercial cows averaged $3133 per head.

The top priced bull was $16,000 for lot 2, Barana Pierson selling to Lake Lofty Pastoral, Dysart QLD and the top priced female was $9,000 for lot 3, Barana Pippa selling to VC (Valley Creek) Simmentals, Bowral NSW.

Read more in The Land
Caption: Volume buyers the Sinclair family with the Cook family and auctioneer Paul Dooley (far left). They are pictured with some of the draft of seven bulls that the Sinclair family will take back to Victoria. Photo from The Land
National Sale Survey
In the wrap-up from our National Sale, the Committee would love your feedback to the following questions:

Q1 What were your thoughts on the online format with a view of keeping the sale online in 2021?
Q2 What did you think about the value of professional photos and videos?

Q3 Do you still like to see the paper catalogue?

Q4 Would you like to see more commercial lots?

Please leave your comments in the email here
Office update:
SPRING INVENTORY has now been run. You will either receive your hard copy S1 forms in the mail or they will be in the Member Login/Download Files area of the Animal Enquiry website ready for you to download at any time.