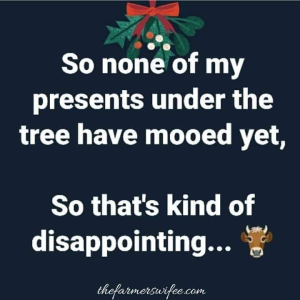 The office will be open during the break unless it's a public holiday as I'll take leave a bit later. Our Registrar will be on leave from 4th – 8th January.
Thank you to the membership for your support this year with so many changes. Here's to a better 2021 for all.
"May all your presents moo this year"
Meme courtesy of thefarmerswifee.com
Simmental online sale catalogues
We have three sales catalogues online for sales in 2021. Be sure to click through and see what's on offer.
Autumn Inventory
The Autumn Inventory or Dam Disposal list has been sent to your member login or posted for those who don't have a login.
Please check your Download Files area for a Disposal List dated 3rd December.
Forms are due back on 31st January. You can also enter these through the member login screen under Online Transactions. Inactive sires in your ownership can also be made inactive this way.