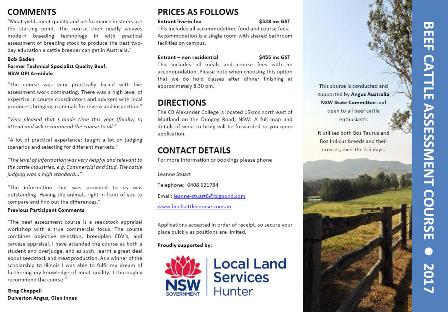 This Beef Cattle Assessment Course, now celebrating its 38th year, has been widely recognised as the most practical and hands on beef cattle selection course of its kind. It has been copied in most Australian States and NZ using the basic principles developed through experience.
The course embraces both newcomers and experienced cattle producers alike. A great deal of time and thought goes into the selection of the overjudges. They must possess the practical and communicative skills necessary to ensure all participants receive maximum benefit, given the varied levels of experience of participants.
Although this course is organised by NSW Angus State Committee it is open to all beef cattle enthusiasts. It utilises both Bos Taurus and Bos Indicus breeds and their crosses over the duration of the course.
Email leanne-stuart6@bigpond.com