The 5th to the 8th December 2019, Queensland Simmental Breeders held their annual 'Beefing Up the Next Generation 2019 Show' at the Pittsworth Showgrounds, QLD. Over the four days, we had a largest show to date with 75 participants aged under 25 years. Our participants travelled as far as west of Roma and south of Kempsey to come and join in our program. With it being one of the countries driest years, the enthusiasm from both junior participants and cattle exhibitors was more than we could have ever imagined with cattle entries following in the door to support our event. We had a massive 103 head attend to Pittsworth for ballot animals for all our participants, which all were from drought areas, and makes us so much more grateful for their time and input into our camp.
This year's focus was 'contraception to consumer', as we feel it is very relevant for our participants to see the stages and get an understanding on how you get that end product that every operation is aiming for.
Day 1: 25 entrants aged 15 and over arrived early Thursday morning to step on the bus, thank you to Crisp Coaches to travel down the range to Gatton UQ university to have a lab tour of the new 'Neogen Genetics Laboratory'. From here, they then travelled to 'Brisbane Valley Proteins' where the participants and some of our dedicated stud breeders saw the processing plant and feedlot of 'quails' and how they are presented etc for fine dining restaurants after being processed. After lunch, they then ventured to their last destination at the ACC Feedlot before heading back up to the Pittsworth Showgrounds. Participants then had the privilege to talk to Marg Will about 'Organic Farming and Career Opportunities in the Organic Field', and then with Julie Pocock-Iseppi a presentation about 'Understanding Cow Reproduction Cycle'.
Day 2: Our numbers lifted to 75 participants very early morning for the start of our full program for the next three days. As the seniors were listening to presentations for our stud breeders that attend our show each year, they got to learn about actually understanding the judging principals and scoring for when they go to do their Junior Judging Competitions, and had a demonstration on advanced paraders and showmanship. While the other participants under 15 went on to do basic cattle development with washing demonstrations, judging tutorials etc. They also began some carcass activities with our life size wooden bull 'Major' who was kindly donated and made by Scott York. This is where we started with the end products that all consumers are looking for in their cuts of meat.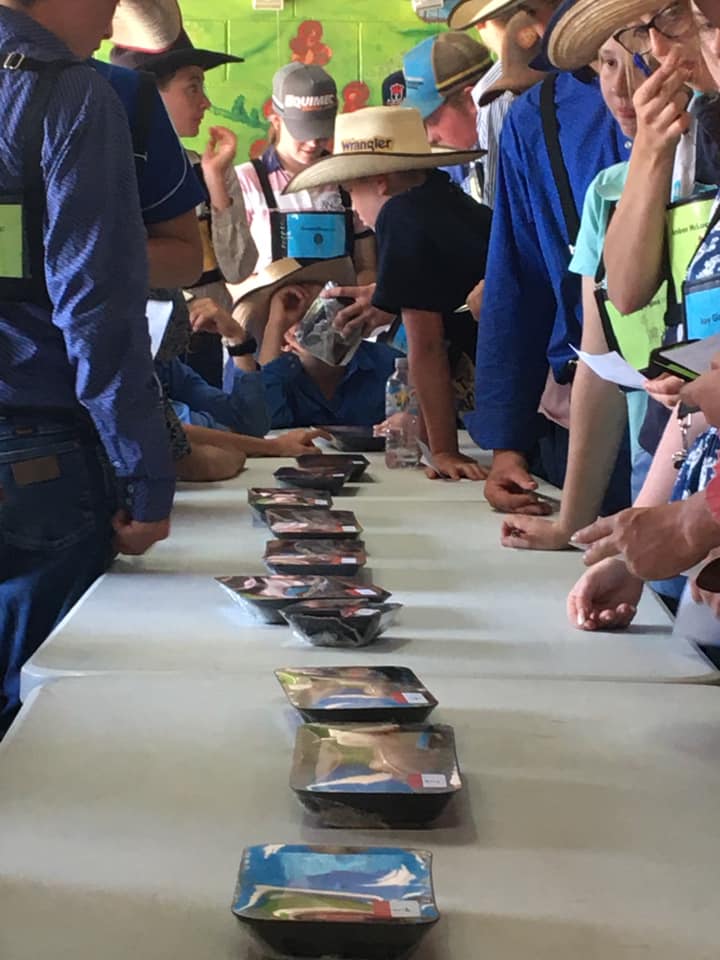 Day 3: Day 3, we began our day with the Annual Simmental Show, followed by the led steer and open heifer competition. This was followed by our annual water slide and balloon fight which gets the participants to time pay some payback to our stud breeders! We then all joined in the dining room, for a chat from MSA representative Will Atkinson to come and spend time with all of our participants on our very exciting program of the meat Judging. As they judge and guess the cuts of meat, they also get to taste test and judge each cut of meat to see which premium cut is most popular grading it into their score cards. This is something that as a committee we try to grow on each year, as it really tests the participants and breeders knowledge on different cuts of meat on trays etc and where they actually are on a side of beef/lamb. Thank you to Travis Iseppi for breaking down a side of pork and the beef for everyone to see how similar the cuts of meat are on each different meats. We ended the day with another demonstration on hoof structure and had a demonstration on corrective trimming and games night!
Day 4: Started day 4 with our paraders competition followed by presentations for then our participants and cattle breeders started to head home.
Overall, I believe it was best and biggest junior show yet, we strive each year to provide something different from the other shows by showing our commercial side and what our consumers want. Each year, we will grow and our program will only improve, and I can only thank the Queensland Simmental Breeders for all your support in making this event possible and trusting myself to do this each year.
To all the Simmental Breedesr, that either sponsor or ballot their cattle each and every year, I thank you so much for the support you give our younger generation.
To all our sponsors, I thank you all so much for coming on board with helping our junior show become the success it was. Without all of you, our event would not have been possible, and our participants would not have gained the skills and knowledge they did without your help, so, thank you ever so much.
Until 2020, thank you again,
Kind regards, Bec Skene
QLD Simmental Breeders
RESULTS:
SIMMENTAL SHOW:
Calf Champion Bull Sponsored by Lean Hotel Pty Ltd: Meldon Park Pedro
Res Calf Champion Bull Sponsored by HIP Pocket Workwear: Meldon Park Performance
Junior Champion Bull Sponsored by Cannon Dee Simmentals: Double K 90 Or Nothin'
Res Junior Champion Bull Sponsored by Rural Ribbons: GK 130 Paymaster P11
Grand Champion Bull Sponsored by Ellendale Red & Black Simmentals: Meldon Park Pedro
Calf Champion Heifer Sponsored by Lean Hotel Pty Ltd: Ellendale Flirtin' With Style
Res Calf Champion Heifer Sponsored by HIP Pocket Workwear: KBV Que Vaca
Junior Champion Heifer Sponsored by Cannon Dee Simmentals: GK Perfect Masterpiece P11
Res Junior Champion Heifer Sponsored by Rural Ribbons: Double K Phenomenol
Senior Champion Heifer Sponsored by Bundaberg Molasses: Meldon Park Princess Charm
Res Senior Champion Heifer Sponsored by HIP Pocket Workwear: GK Precious Masterpiece P005
Grand Champion Female Sponosored by Ellendale Red & Black Simmentals: GK Perfect Masterpiece P11
Supreme Simmental Exhibit Sponsored by Elite Livestock Auctions: GK Perfect Masterpiece P11
Entrants Choice Supreme Exhibit Sponsored by Five Star Creative Promotions: Double K 90 or Nothin'
Rabobank Queensland Simmental Youth Ambassador Award (Sponsored by Rabobank): Charlie Salter
Champion Parader Sponsored by KBV Simmentals: Phoebe Southwell
Champion Stud Judge Sponsored by Meldon Park Simmentals: Kaden Humphris
Champion Prime Beef Judge Sponsored by Garden City Artificial Breeders: Olivia Delaforce
Joe Tones Memorial Champion Herdsman Sponsored by Winners Edge Hair & Hooves: Olivia Delaforce
Champion Speaker Sponsored by Highfields Chiropractic: Kaden Humphris
Sportsmanship Award Sponsored by Meldon Park RB Simmentals: Charleigh Tucker
Champion Team Sponsored by Kirrily, Jake & Brooke Iseppi: Team Goats
Best and Fairest Sponsored by AW Mobile Ag Repairs: Aidan Schelberg
Photos will be available for viewing on our Facebook page.