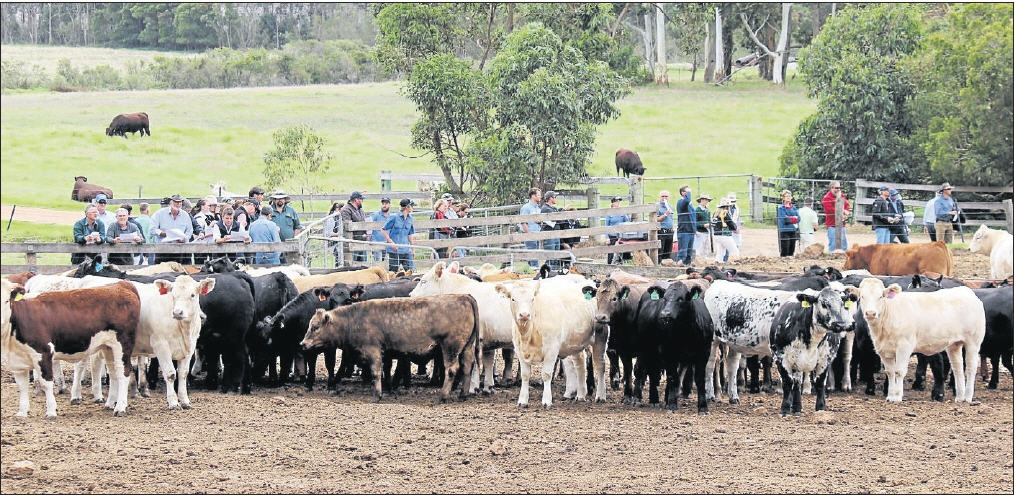 The Harvey Beef Gate 2 Plate Challenge continues to go from strength to strength.
Organisers of the 2017 competition's mid-way point inspection and field day held at the Lyon family's Willyung feedlot, Albany, last week said attendance was up on last year. The event is only in its third year but the popularity of the unique chance the competition provides producers to benchmark the performance of their cattle against peers from across the State suggests the Harvey Beef Gate 2 Plate Challenge will be around for many years to come.
This year, 59 teams comprising of one heifer and two steers have been competing against each other in the Willyung feedlot since January 9. Sandy Lyon, Willyung Farms, Albany, said he was really impressed with the performance of the cattle.
"The quality of cattle coming in at the outset was outstanding," he said. "People entering their cattle this year really understood what we as lotfeeders are looking for in an animal.
"The performance of the cattle on feed has been fantastic." Mr Lyon said the steers collectively average a daily weight gain of just less than 1.8kg/h/d. "A lot of the steers are near the 500kg mark which says a lot of good things for them in the later stages of the competition," he said.
"They are doing very well." The heifers average a weight gain of slightly less per head, per day, at just less than 1.6kg. But there can only be one winner, and producers won't find out the results for a while yet.
At the most recent weigh in on March 17, the most impressive weight gain since induction to the feedlot was posted by the WA College of Agriculture, Denmark, with it's team of three Angus- Simmental youngsters. Gaining an average of 150kg since going onto feed, the team also came in equal third overall for the heaviest average weight.
Excerpt from Farm Weekly, written by Courtney Walsh
Simmental results to date:
Team 5 from Camden Hill Grazing, 1 heifer and 2 steers, Black Simmental X Angus, induction ave 376kg, mid ave 511kg
Team 8 from Deeside Muirs, 1 heifer and 2 steers, Simmental X Angus, induction ave 317kg, mid ave 443kg
Team 17 from Bullock Hills, 1 heifer and 2 steers, Angus X Simmental, induction ave 337kg, mid ave 453kg
Team 18 from Denmark WACA, 1 heifer and 2 steers, Angus X Simmental, induction ave 361kg, mid ave 511kg
Team 20 from SA & SH Smith, 1 heifer and 2 steers, Black Simmental X Angus, induction ave 336kg, mid ave 428kg
Team 39 from Karrie Heights Estate, 1 heifer and 2 steers, Angus X Simmental, induction ave 386kg, mid ave 505kg
Team 54 from Brighton Farms Pty Ltd, 1 heifer and 2 steers, Simmental X Shorthorn, averaged 343kg, mid ave 453kg